JBFC Football was set up in 2013 by FA Licensed Football Coach Jamie Bradbury.
The aim was to give children in Colchester the chance to get involved in football in a fun and pressure-free environment.
JBFC Head Football Coach: Jamie Bradbury
From: Colchester, Essex
Coaching Qualifications: FA Licensed Coach, UEFA B, FA Level Two Coach Award, FA Level One Coach Award, FA Youth Award Module One, Module Two and Module Three, Coerver Youth Diploma
Other accreditation: Enhanced CRB Disclosure, FA Emergency Aid Certificate, FA Safeguarding Children Certificate, FA Laws of the Game Certificate
Licensed Coach Since: 2002
Coaching experience: Current first-team manager at Long Melford FC, JBFC Kids Football Coaching, Capel Krakens U15s, Capel Krakens U12s, Boxted Lodgers FC, Hutton FC U11s.
Playing Experience: East Thurrock United (Isthmian League), Basildon United and Bowers & Pitsea United (Essex Senior League), Boxted Lodgers, Sudbury Athletic and Dedham Old Boys (Essex & Suffolk Border League), Wivenhoe Town and Tiptree United (Essex & Herts Combination), Reed Hall Sentinals (Colchester Youth League), Woodhurst and Tiptree Monarchs (Sunday Football), FA Staff Team (Player/Manager)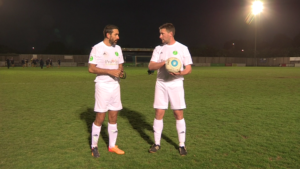 For 18 years, until the end of 2015, Jamie worked for The Football Association with a large portion of that at Wembley Stadium as FA Editor where he managed content for TheFA.com, the FA's official website, and all FA Match Day Programmes for the England Team and The FA Cup. He also went to five major tournaments as part of the England set-up, including the 2014 World Cup in Brazil.
Away from work, Jamie is passionate about the grassroots of football and, as well as following Liverpool from the age of seven, has also played for a club every season since he was eight years old.
Now he wants to help give young people the opportunity to have a lot of fun while learning the game, and maybe they can be as excited about football as he was – and still is.
Having gained his Level One coaching certificate in 2002, he eventually decided to move on to the Level Two certificate.
His education has continued with the UEFA B Licence course in 2014, and the FA's Youth Award, completing the courses for all three modules. He has also received the Coerver Youth Diploma 1 after attending the skills-based course at Manchester City's Etihad Complex.
Currently first team manager for Long Melford FC in the Thurlow Nunn Premier Division, step five of the English football pyramid, he has also set up three development teams under the Boxted Lodgers banner from selected players who attend the JBFC Saturday Club.
As a player, Jamie reached his peak in the Ryman League with East Thurrock United, but has also been lucky enough to play at some great stadiums; Wembley (old and new), Millennium Stadium, Old Trafford, Upton Park, Weston Homes, Turf Moor, Bloomfield Road and even Falkirk!
When it comes to work, he was part of the England Under-21s set-up between 2006 and 2013, and the senior team set-up up until his final game at The FA – England against France at Wembley in November 2015. During that time he has seen some very talented players come through the system, while also observing many, many elite coaching sessions.
Through his work he has been able to watch sessions at close-hand delivered by coaches like Fabio Capello, Pep Guardiola, Stuart Pearce, Roy Hodgson, Peter Taylor, Steve McClaren and Sven-Goran Eriksson.
While he says he may never reach the heights of the coaches mentioned above, his goal is to ensure that anyone he coaches or manages enjoys their time on the football pitch, learns and develops as a player and person, has the chance to express themselves and maximise their potential.
If you'd like to know more about sessions run by JBFC Football Coach Jamie Bradbury drop us a line via the contact form above. You can also follow on www.twitter.com/jbfcfootball or on the JBFC Faceback page.
As well as being a Football Coach Jamie Bradbury is also a digital marketing expert, specialising in social media advertising and management, copywriting, content production and website editing.
If your business would like to benefit from Jamie's 20 years experience in the world high-profile international media and marketing, visit his other website www.weareborder.com.